Specifications & Features
New feature in v5.0.4
Below are all the new features in (v5.5):
Reference Wiring Schematics,,

Powder coating on panels,

Carbon fiber patterns,

Logos of various aircraft models,

Various aircraft illustrations,

Faster edata updates,

Drawing tools for circles and rectangles,

Export DXF viewer,

All 900 blank panels have been redrawn in a metallic finish,

Access our always-growing library of 900 blank panels and 2,000 instruments,
All Panel Planner versions get
Access our always-growing library of 700 blank panels and 2,000 instruments,
 Two years of edata updates of newly added instruments and panels plus new software features,
 Run on Windows or Macintosh computers with all files cross-compatible,
 Same 100+ design tools to align & space instruments, print panel designs, CAD files to fabricate
 Safely copy the Panel Planner program to your other home or mobile or work computers,
 And lastly but not least you receive free unlimited technical support.
Equipment Database
Simple to browse equipment explorer, with views by the manufacturer and by type
Equipment item preview
Search equipment feature
Automatic updates over the internet
Over 1900 equipment entries
User can add it´s own custom equipment, from a scan or JPG file
User can modify any entry in the equipment menu
Information stored in XML, leading-edge standards
Drag and drop placement
Import, Export and Print
Import SVG, JPG, PNG graphics (when adding used-added equipment)

Export template cutout in DXF, actual size.

Export faceplate and template views in PNG, JPG, and PDF, in several sizes.

Export equipment summary to TXT and HTML

Print faceplate and template views in actual size (tiled over multiple pages) or fit in window.
Other Features
eData Update Center, for update of the panel templates and fixes-improvements to the application

Graphics in SVG, for crispier detail and more accurate diplay.

Over 560 different panel templates.
Work Area
Multiple levels of zoom

Work in Faceplate view

Work in Template view (cutout)

View the Top view of the panel (equipment depth)

Align-Distribute tools

Assign a specified space between objects tool

Rulers and guides

View and Print a panel in nightime lighting
Change the color of the panel

Work in INCHES, CM, or PT

Snap to guides. Selectable hotspot.

Project Browser

Detailed Information pane

Able to assign-modify dimensions to placed items (faceplate and template data)

Color labels-placards

Duplicate switches and fuses vertically and horizontally

Marquee selection

Multiple open documents

Copy and paste between open documents
Technology
You may ask what the "J" stands for? It stands for Java, the propgramming language our software uses.
Why Java? We wanted to make the most versatile, extendable application, and we selected java as the appropiate solution, since it is not platform-specific, has leading edge standards and supports the additional technologies we wanted to implement on this project.
Data in XML. XML (extended markup language) has become the standard in data exchenge technologies, and thus, having the data information in XML makes the application easier to maintain, the data easier to exchange and the update posibilities endless, since the data is in a uniform web aware standard.
Graphics in SVG. Scalable Vector Graphics is soon to become the standard in graphics formats, because is an open standard, strongly backed by its XML foundation, and it is an elegant solution to display graphics in an application, because it is resolution independant, allows for morphing (between template and faceplate view), and it is easier to maintain than Bitmap images. Also, it allows One Mile Up to continue its lifelong commitment to vector graphics.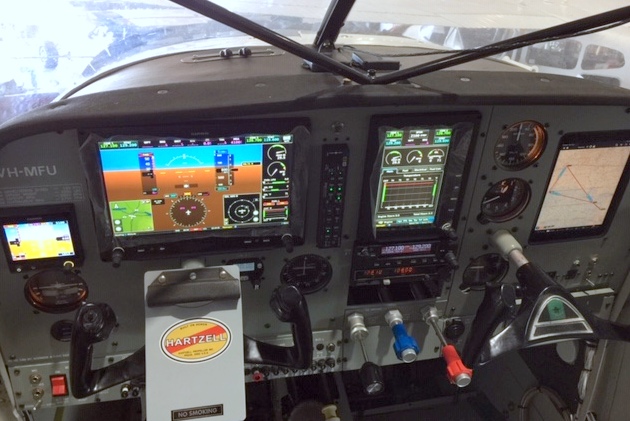 General
512Mb RAM
1 GB free space in your Hard Disk
Internet Connection for Database and Application updates
Windows OS
Windows 7/8/10+, XP.

Pentium III or higher processor (733Mhz or higher recommended)
Macintosh OS
Macintosh OS X 10.8

.3 or higher with the most recent Software Updates (

Users of 10.7 please call for a special edition.

)

G3 or higher processor (733Mhz or higher recommended)

Comes in Disk Image for simple Mac-like installation.
Panel Planner ships with Java already bundled. There is no need to download any other version.
Windows user must run Panel Planer in "Run as Administrator" mode. Right-click the Panel Planner icon to select that option. Monitor resolution should not be above 1900 dpi.
Macintosh users must have the software in the Applications folder.
Before installing turn off Macintosh Applications Only to allow 3rd party software in the Security option in System Preferences.
Mac users of Snow Leopard and earlier will need a different PPJ as back then Apple included Java.
Please be sure to restart Panel Planner J after ordering this update. That resets your serial number.
Please call.